Mars rovers on Earth
Posted on Tuesday, February 20, 2007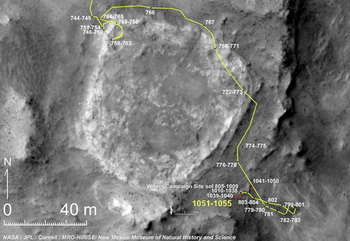 Click to enlarge

Thinking about a project by c5 I read about in Jeremy Hight's text on Floating Points:
Now groups such as the C5 collective are doing work such as the GPS mapping of the entire great wall of china and then placing the coordinates in another location. This type of work creates a layered commentary and plays with form and semiotics as well as referencing the Situationists who developed absurd commentaries like a walk through the streets of Paris following a map of another city.

I had an idea: lets digitally translate the trajectories of the
2 Mars rovers
to a suitable location on (Google) Earth.