KML search capability: hurricane+katrina
Posted on Tuesday, February 20, 2007


Click to enlarge

OgleEarth and Directions Magazine have the news of a KML search capability recently announced by Google on their maps API blog.
Leaving the discussion on the licensing of Google Earth @ work for a moment, here is an intruiging thought I like from Allen Doyle discussing the release:
But, hey! It's a start. The buzz is there. It's easy to post KML files. How hard would it be to post the entire metadata holdings of a large geospatial data provider like NASA or NOAA in KML? I bet a service like GCMD could post theirs in a week. At Where 2.0, we could be watching demos of Google Earth finding, and displaying, realtime remote sensing data.

Makes me wonder what
an HTM
would have to say about the patterns?
Btw, below is what Google Earth now comes up with searching for 'hurricane+katrina'. Fairfield Inn by Marriot? Not exactly what I was looking for...although...mmm, maybe...if it were realtime data ;)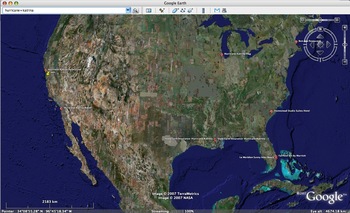 Click to enlarge