On Intelligence
Posted on Sunday, February 18, 2007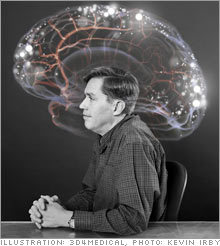 Every now and then I gather a list of books I come across while doing research on the Net and order them via Amazon. The latest batch included a book called 'On Intelligence' by Jeff Hawkins, published in autumn 2004 (Amazon). I started to read it a couple of days ago and it completely captured my imagination. Finished it in 3 reads. If you are interested in state-of-the-art thinking on how the brain conjures up something like intelligence, and how this could potentially be implemented in machines, this is it.

Some of the most thought provoking points for me stem from his discussion on the potential of an Artificial Intelligence (AI) intelligent machine, or HTM (Hierarchical Temporal Memory) as he calls his model (.ppt), to make sense of the world through some as yet undefined exotic senses. For example, if he is right that the neocortex basically works on patterns, an intelligent machine based on HTM can learn to make sense of (and predict) global weather patterns using as exotic sense a widely distributed sensor web. Basically, any pattern can be used in this sense, be it Google user statistics, stock market fluctuations, satellites studying Solar Weather, genetic sequencing, hell, even the web itself is probably one big pattern if you have the right senses for it...we could be in for some pretty unexpected extensions of our reality, if we know how to translate them back to our human senses that is...

Doing some further background reading, I came across a couple of interesting video presentations by Jeff on his theory, potential applications and his future plans. In addition, I found this remarkably recent (feb '07) Business2.0 article on his current whereabouts at Numenta, the for-profit company he spun off from the Redwood Center for Theoretical Neuroscience to implement the model he described in his book 2 years ago. And here is a recent Science article about the same topic (Oct. '06).