Here we go: locative media branding
Posted on Thursday, February 8, 2007
"The advent of Internet-based flight tracking technology enables an entirely new kind of skywriting. Gulfstream Aerospace sent up one of their $50M business jets today on an 8.5-hour test flight spanning 11 states for the sole purpose of leaving their mark on the Net in the form of a flight track that spells out 'GV' (the nickname of the Gulfstream V aircraft being flown) when viewed online."
(via MIT's
Advertising Lab blog
)
On a similar note, at BoingBoing:
Radar of corporate jets leaving the Superbowl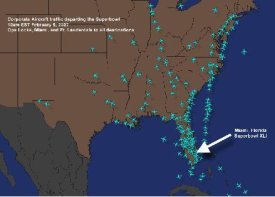 I hope we get to see some of this in space as well, before its
too late
...