Computer liebe
Posted on Tuesday, March 6, 2007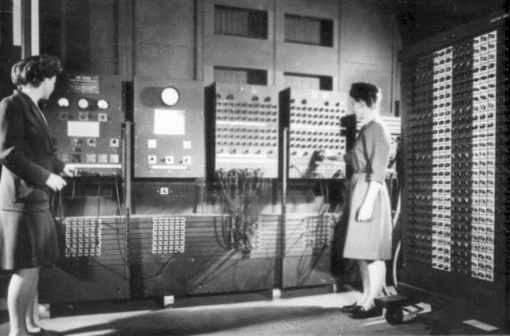 Via Jurryt Pietersma, did you know this (from an interview with J. Presper Eckert, co-inventor of the ENIAC):
Q: So it's a myth that ENIAC could only add, subtract, multiply and divide?
A: No, that's a calculator. ENIAC could do three-dimensional, second-order differential equations. We were calculating trajectory tables for the war effort. In those days. The trajectory tables were calculated by hundreds of people operating desk calculators -- people who were called computers. So the machine that does that work was called a computer.
Sweet...More at
computerworld.com
.
Btw, for those of you in the Netherlands, I just discovered this series of lectures that could be of interest to you:
cybersalvations
. Here is the line-up:
March 21:
Bruce Sterling (science fiction writer, design visionairy) &
Peter Pels (anthropology, Leiden University)
Moderator: Sally Wyatt (Virtual Knowledge Studio, former president of the European Association for the Study of Science and Technology)

April 11:
Rudy Rucker (science fiction writer, mathematics professor)
RU Sirius (founder cyberculture magazine 'Mondo 2000')
Moderator: Giselinde Kuipers (sociology, University of Amsterdam)

May 2:
Brenda Laurel (virtual worlds and game designer)
Bruce Damer and Galen Brandt (virtual worlds developers and performers)
Moderator: Christian van 't Hof (Rathenau Institute)

Location: Pakhuis de Zwijger, Piet Heinkade 179, Amsterdam
Start: 19.45 uur
Entrance: Free