The Future of Human Spaceflight
Posted on Sunday, December 28, 2008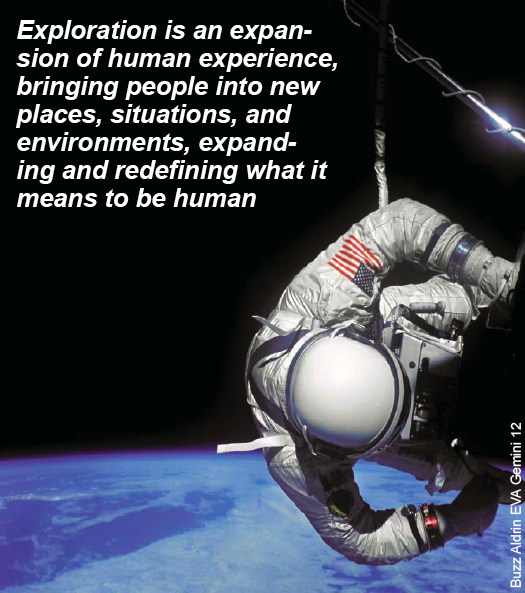 Screendump from report

The title of a white paper recently issued by the 'Space, Policy, and Society Research Group' based at MIT. Some quotes from this (worth reading) 15-page report:

This report addresses the future of human spaceflight, that is physically placing humans in space and on other planetary bodies.
A primary objective of human spaceflight has been, and should be, exploration. Exploration, of course, is a keyword in the Bush vision and in NASA's own terminology. Yet while the word is often used, it is rarely specified beyond lofty rhetoric and allusions to curiosity and frontiers. What is exploration, and why explore?
First, it is worth considering what exploration is not. Some argue that "exploration is in our DNA," that some fundamental, even genetic, human trait compels us as individuals and as nations to seek out new territory. The civilization that fails to expand geographically, the argument goes, will enter a state of permanent decline, always to be exceeded by other nations with more compelling wanderlust. We reject these arguments about essential qualities of human nature. No historical evidence, no social science evidence, and no genetic evidence prove that human beings have an innate, universal compulsion to explore. In fact, space exploration is radically different from the kinds of geographical expansion that have marked human history because of its high degree of technical difficulty, the environments' extreme hostility to human life, and the total lack of encounters with other human cultures.
We define exploration as an expansion of the realm of human experience, bringing people into new places, situations, and environments, expanding and redefining what it means to be human.
Space continues to attract broad public interest, although it must compete for attention in an increasingly diverse, overheated, and unstable media environment. Young Americans increasingly see remote and virtual presence as equivalent to physical presence and may not accept older arguments about the importance of "being there." Exploration in other realms, notably the deep ocean, faces a similar set of questions as engineers, scientists, and policy makers debate the appropriate mix of human and remote presence in our digital world.