Nova Spivack Talks about Role of Media in Future Global Brain
Posted on Friday, October 10, 2008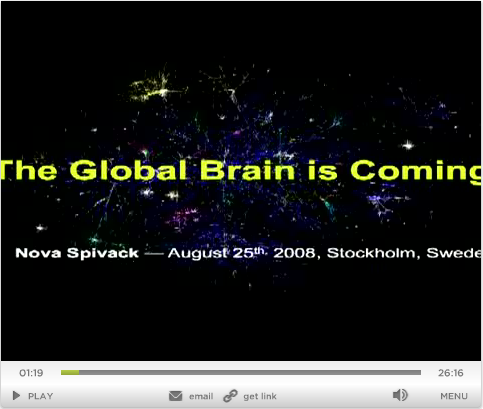 In reference to my previous post, this is what I call an INSPIRING start of a 3-day weekend ;-). Nova basically calls it my favorite talk out of all the talks I have given (more videos from GRID08). I hope whoever gets to decide on where to spend the money for SEC. 407 408 of the NASA Authorization Act 2008 takes the time to listen to his insights:
SEC. 407. PARTICIPATORY EXPLORATION.

(a) In General- The Administrator shall develop a technology plan to enable dissemination of information to the public to allow the public to experience missions to the Moon, Mars, or other bodies within our solar system by leveraging advanced exploration technologies. The plan shall identify opportunities to leverage technologies in NASA's Constellation systems that deliver a rich, multi-media experience to the public, and that facilitate participation by the public, the private sector, and international partners. Technologies for collecting high-definition video, 3-dimensional images, and scientific data, along with the means to rapidly deliver this content through extended high bandwidth communications networks shall be considered as part of this plan. It shall include a review of high bandwidth radio and laser communications, high-definition video, stereo imagery, 3-dimensional scene cameras, and Internet routers in space, from orbit, and on the lunar surface. The plan shall also consider secondary cargo capability for technology validation and science mission opportunities. In addition, the plan shall identify opportunities to develop and demonstrate these technologies on the International Space Station and robotic missions to the Moon.
(b) Report- Not later than 270 days after the date of enactment of this Act, the Administrator shall submit the plan to the Committee on Science and Technology of the House of Representatives and the Committee on Commerce, Science, and Transportation of the Senate.