tobedetermined.org Extended Credo
Posted on Monday, September 1, 2008
Update: A post over at O'Reilly Radar by Nat Torkington reminds me of another quote I've used in the earlier days of this blog. It's a (famous) quote from William Gibson: The future is here, its just not evenly distributed yet. In his post, Nat refers to another quote from Gibson that brings the overarching point home:
One of the things our grandchildren will find quaintest about us is that we distinguish the digital from the real, the virtual from the real. In the future, that will become literally impossible. The distinction between cyberspace and that which isn't cyberspace is going to be unimaginable. When I wrote Neuromancer in 1984, cyberspace already existed for some people, but they didn't spend all their time there. So cyberspace was there, and we were here. Now cyberspace is here for a lot of us, and there has become any state of relative nonconnectivity. There is where they don't have Wi-Fi.

Having a 3-day weekend does have its benefits (like in: having an extra evening behind your computer?). Think I just stumbled upon something like an extended credo for this blog (beyond tobedetermined.org: A blog about outer space, cyberspace, their common future and all that is leading up to it... ). I started gathering some quotes that resonated with me over the years and ended up with this list (read from top to bottom, in that order):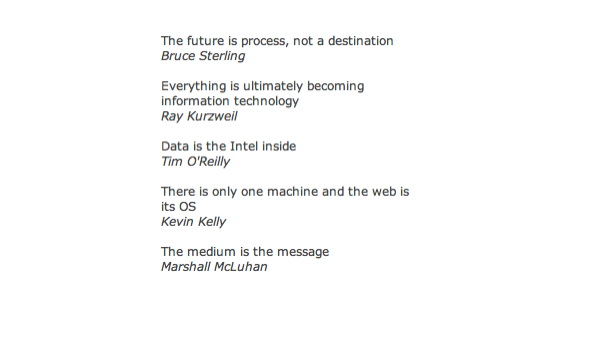 I am sure there are more out there that would fit this list, so if you have any suggestions pls let me know.