Today's NASA Slogan: All Your Space Are Belong To U.S.
Posted on Sunday, September 9, 2007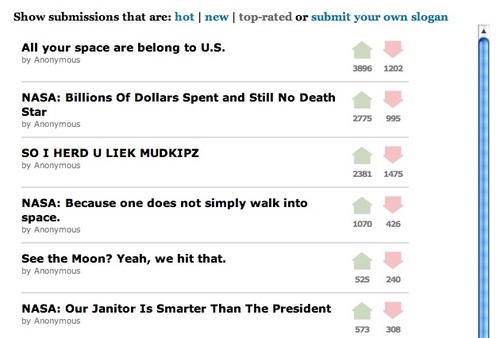 Wired is running a crowdsurfing NASA slogan contest to see if its readers can come up with a better slogan than the recently selected "NASA explores for answers that power our future". Starting out as a gimmicky blogpost (read a long list of proposed-slogans-as-comments here), the large number of entries have moved the contest to a more sophisticated system (the NASA Slogan Reddit Tool!) where people can cast votes on the various entries. Above image shows the top-6 of today, Sunday September 9th 2007.

Sofar, many of the proposed slogans go back to NASA's glorious past, poking fun at present-day achievements. With the CEV vehicle (aka Orion) resembling Apollo all the way down to the parachuted landing (water or land, what does it really matter?), having a slogan referring to the successes of the past seems to me to match NASA's own state of mind (yep, its the the wisdom of crowds allright). In that sense, having a slogan bringing back the glory days of NASA isn't all that far fetched if you ask me...I mean, how inspirational is this graph: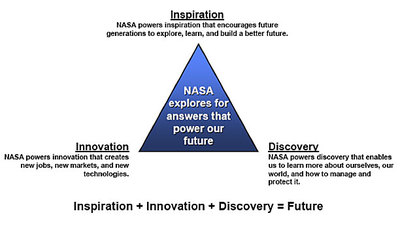 compared to this image: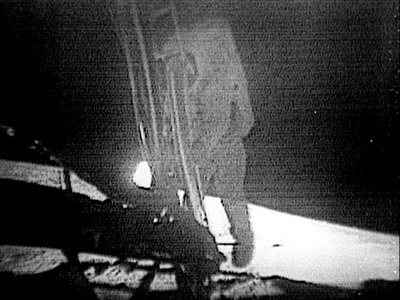 Would be nice to have the WIRED contest run indefinite while NASA's Vision for Space Exploration unfolds, having something like a NASA Slogan Zeitgeist over the coming decades. Btw, if you're interested, some more background information on NASA Strategic Communications can be found in this powerpoint pdf.