NASA budgets for development of MMO & Worldspaceparty
Posted on Tuesday, March 27, 2007
Another example of 'NASA gets it...the others follow': NASA moving into virtual world development:
To successfully advance the Vision for Space Exploration (VSE), NASA is continually refocusing and streamlining its organization, realigning ongoing programs, and tapping the innovative talents of our nation. To accomplish the VSE goals of returning to the moon and going beyond to Mars, NASA must find ways to enhanced science, technology, engineering and mathematics (STEM) education. This intramural call for proposal ideas seeks to develop a persistent, online, synthetic environment that will support NASA's STEM education goals and allow millions more American to share in the experience of NASA science and exploration virtually.
Read more about this particular solicitation (
16-page pdf)
at
3pointD.com
(the call seems to have been postponed). Seems to follows neatly along the lines of a NASA activity that has already been going on for some time:
NASA CoLab
:
NASA CoLab is a Collaborative Space Exploration Lab being developed at NASA. CoLab will provide a framework for exciting partnership projects between the nation's space program and the thriving technology-entrepreneurial community. In addition to the benefits to collaborating with intellectual assets of the technology business sector, the general public will benefit through various projects supporting the NASA's goals. CoLab will feature a physical space in downtown San Francisco, a collaborative online space where scientists and engineers from NASA will collaborate with the entrepreneurial technology community, and a space in "Second Life", a virtual learning community with interactive content.
This also reminds me: forget Easter, its
WorldSpaceParty
time. Some of the people I met while over in Cupertino are taking part in the organisation of this once in a lifetime party commemorating the 50th anniversary of the Sputnik launch, while at the same time celebrating the annual
Yuri's night
which is held all over the globe. Located in a
hanger on NASA Ames premises
, the event includes amongst others a concert by
Plaid
(enough reason already to go over there) and also hosts several
space art exhibitions
. In case you can't make it over to California, there is always the opportunity to visit the party through your second life ;)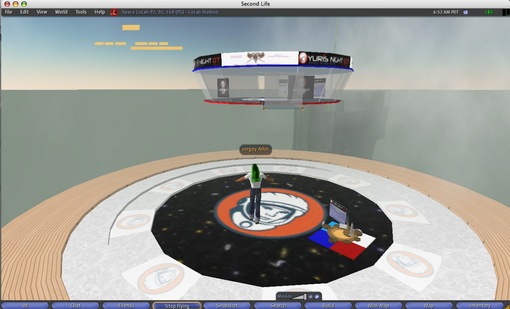 Click to enlarge