Navigating outer space
Posted on Friday, January 5, 2007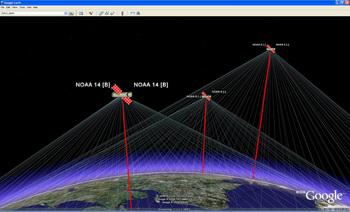 Click to enlarge

Update monday 8 January: I have edited most of below text yesterday after originally posting it on saturday evening. Reading through it again, I noticed how it touches upon a relevant aspect for me of the mediation of outer space through cyberspace: the interface to the planets and 3 dimensional outer space. This post might well be the start of a longer text on this topic.


As you probably noticed, I've been mostly away from the blogosphere the last 2 weeks, spending some enjoyable 1st life here in Amsterdam. As a result, I am now looking at a backlog of ideas, thoughts and interesting stuff out on the web related to this blog's topic which I hope to post about in the coming days & weeks (and a happy new year to all of you of course!). First on my list:

The SpaceNavigator™
I received mine from Germany earlier this week and it turned out even better than I expected. It really is an excellent tool for flying around and 'travelling' in Google Earth. For more indepth reviews of the device, see OgleEarth and GEB.

Using it brings back memories of when I was studying in Delft. It must have been around 1995 when I took a course in 3D modeling and virtual reality. At the time, I was heavily into all things cinema and especially Andrei Tarkovsky, so as part of the VR course I set out to model the cathedral from the final scene of his movie 'Nostalgia'...it was only a test case, and I unfortunately never finished it (the course was over before I could), but during the course I got my first flying lessons in virtual spaceland using one of these nifty interfaces (at that time they were called space mouse). I remember the pleasure of navigating with 6 degrees of freedom through 3 dimensional space, flying through my half finished cathedral. Using the SpaceNavigator now allows me to do (almost) the same stunts in Google Earth. Its a bit like I imagine real life cessna flying could be like if you do not live right under the

airspace of one of Europe's major airports Schiphol.

The biggest surprise after firing up Google Earth with my new SpaceNavigator came from the possibility to look up, to look at the stars, away from the Earth, something which with normal keyboard navigation I never managed to do. Suddenly Google Space starts to make a lot more practical sense. Its like what Micheal T Jones (Google Earth CTO) talked about in his Google Earth talk a year ago, where he, refering to work by Tjalling Koopmans, discusses how we as humans are shaped by our tools (as in 'the medium is the message' by Marshall McLuhan).

Below image is one such example of a Google Earth view I never managed to get before my SpaceNavigator arrived (the Earth is somewhere below the screen). And I like the way Windows confirms plugging in my SpaceNavigator with "Found new hardware: USB human interface device" ;)).

Having been stuck with the Earth-centric view in all of todays digital globes out there (and/or Moon/Mars centric in the case of WorldWind), the opportunity to look away made me wish for more. I for one would like to navigate through outer space in Google Earth, to turn around and head for the Moon. Sofar, releasing my SpaceNavigator makes me instantly flip back to the Earth, as if my sticky eyeballs are glued to it.

I have seen navigating through 3 dimensional 'outer space' in Celestia, an open-source 3 dimensional space simulation available for free on the web. During the holidays, I played around with it again after seeing it on a big screen at the NASA Ames exploration Center last November where it was used to explain to the audience about the solar system and beyond. The interface is somewhat different from Google Earth and the others, but once you get the hang of it, its really enjoyable to navigate through the Solar System, have a close up view of the Jupiter moon system, take a warp drive outside our own galaxy and safely return back to our 'default' Earth.

tobecontinued...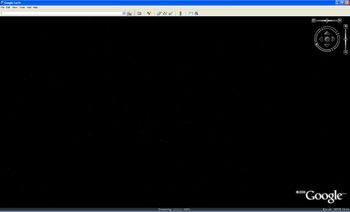 Click to enlarge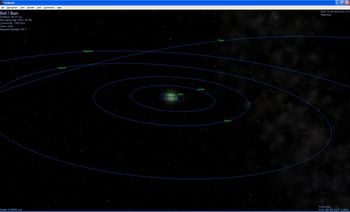 Click to enlarge