Gibson on space travel
Posted on Thursday, January 25, 2007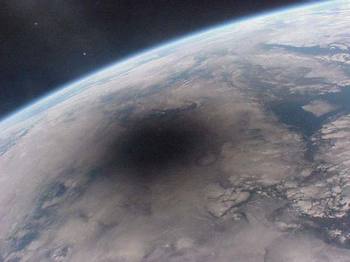 If the ideas of contemporary science fiction writers is anything to go by, here is an interesting interview with William Gibson from back in 1999, where amongst other things, he says the following:
While we were dreaming about spreading our chromosomes, the species was spinning this prosthetic nervous system for itself, and that's what's driving social change now. It's not legislation, it's not population pressures. Where we're going is the result of emerging technologies, and that's terribly rich ground for a science fiction writer.
The above image of a Solar eclipse as seen from space is one of the last images made from the
MIR station
before it was brought down in 2001. In the interview, Gibson specifically refers to it, saying:
I was really deeply moved by one of the last photographs to come out of that station, an image of the Earth seen during the solar eclipse. I thought to myself, "we've never had that camera angle before.
Btw, if the
space.com
website is any hint at what the main internet portal to outer space will be like (its one of the more popular space related websites at the moment I believe), there is still lots of work to be done...the design is just...well...terrible...!