Off topic...
Posted on Monday, January 7, 2008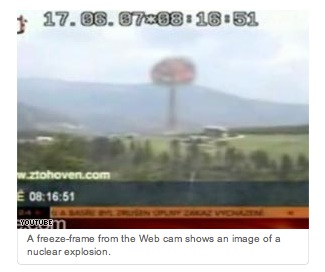 ...but quite a laugh. BoingBoing links to the following story about an art project from the Czech Republic:
On June 17, viewers of a Czech television channel watching a Web cam program monitoring weather in various Czech mountain resorts could see a nuclear explosion taking place in the Krkonose or Giant Mountains in the northern Czech Republic.
Brilliant ;-)
Oops. Only later did I see this video of it. I thought it was a freeze (as in still) frame image on the web camera...