Where Fiction Meets Fact
Posted on Sunday, August 12, 2007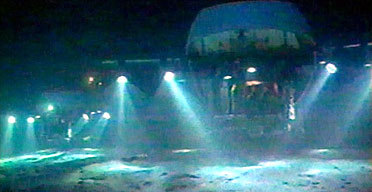 It gets even better with the Earth Polar Lander Mission (earlier post), cause it now turns out above image I originally took from this Guardian article (and which they on their turn took from Reuters) is in fact from a scene appearing in Titanic...yep, the movie ;) It was only discovered after a 13 year old kid told a local newspaper about the similarity with a scene in Titanic:
Last week when papers around the globe ran a story about Russia planting its flag on the North Pole, many also ran Reuters-supplied images purportedly showing Russian submersibles on the North Pole seabed. As it turns out, those images were actually stills from James Cameron's 1997 movie Titanic. A 13-year-old boy called Reuters out when he contacted his local newspaper to tell them that the photo looked identical to an image of two Finnish-made Mir submersibles that appeared in one of Titanic's wreckage scenes.


Reuters has since apologized and conceded that it borrowed "the images from Russian state television channel RTR and wrongly captioned them as file footage originating from the Arctic," according to the Guardian. "RTR had also used the footage to illustrate stories about the North Pole expedition, but it is thought as library footage, and it never claimed it was actually of the flag-planting." (via, and more indepth at the Guardian (subscription)
Wow, that would be like pluggin' scences from what...2001 or Mission to Mars into official ESA or NASA mission coverage...beautiful!