But...but, where's the singularity?
Posted on Sunday, March 4, 2007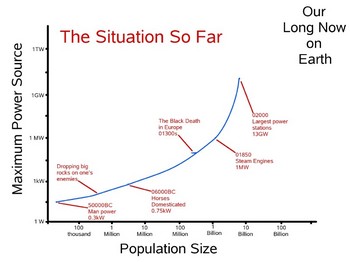 Vernor Vinge recently gave a talk at the Long Now foundation: What if the Singularity does NOT happen.
....It's 2040 and nerds in old-folks homes are wandering around, scratching their heads, and asking plaintively, "But ... but, where's the Singularity?"...
As part of his excursion into possible future scenarios for humankind in case the
singularity
does not happen, he explores the importance of human space flight as a way to secure our long term future. His conclusions sofar:
Humankind's presence in space is essential to long-term human survival.
That is why I urge that we reject any major humans-in-space initiative that does not have the prerequisite goal of much cheaper (at least by a factor of ten) access to space.
Makes sense. Not so sure though if I agree with the idea of human spaceflight as being essential for our future survival, but that doubt is more to do with the notion of 'humans-in-space' compared to that of 'humankind's presence in space'.